GUIDE DRIVER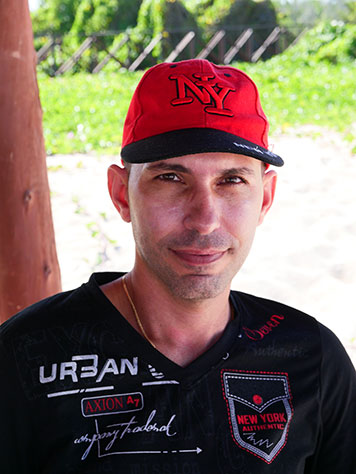 A la recherche d'un chauffeur guide pour découvrir Cuba? Ne pas hésiter à contacter Eloy en anglais et espagnol, un peu de français aussi qui se fera un plaisir de vous guider dans son pays. De bonne compagnie, discret, sensible, connait très bien son pays et peut vous aider en tout.
Contact: tel + 53 52 81 48 22;Email eloydtc@nauta.cu (anglais, espagnol, français)

Alla ricerca di un autista guida per scoprire Cuba? Non esitate a contattare Eloy in inglese, spagnolo e poco franceseche sarà molto felice di accompagnarvi nel suo paese . Di ottima compagnia, discreto , sensibile, conosce molto bene il suo paese e può aiutarvi in tutto.
Contact: tel + 53 52 81 48 22; Email eloydtc@nauta.cu (inglese, spagnolo, francese)

Looking for a good driver - guide to discover Cuba ? Just contact Eloy in English, Spanish and few French, and be sure to have find the best guide to show you Cuba. Relly nice person to travel with, will answer to all yours wishes.
Contact: tel + 53 52 81 48 22; Email eloydtc@nauta.cu (English, Spanish; French)
Estas buscando un chofere - guia para descubrir Cuba? Non dudar a contactar Eloy en ingles, español y un poco en francés que es muyfeliz di acompanaros en su pais . De optima compania discreto, sensible, conoce bien su país, sabe come satisfacer vuestros deseos.
Contact: tel + 53 52 81 48 22; Email eloydtc@nauta.cu (English, Spanish; French)
---